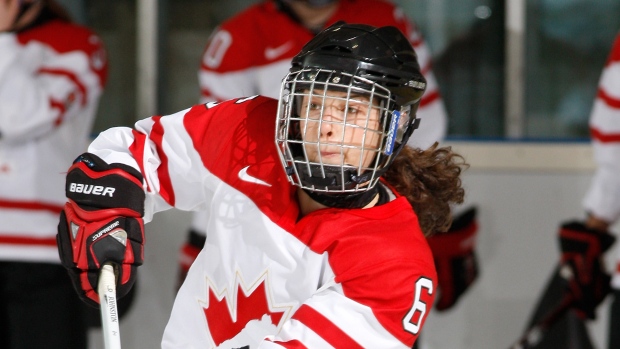 Rebecca Johnston had a hat trick as Canada's national women's hockey team rallied past the United States 5-3 on Saturday in an exhibition game.
Jillian Saulnier and Natalie Spooner also scored for Canada. Shannon Szabados stopped 32-of-35 shots in 51 minutes of work in net for the Canadians. Ann-Renee Desbiens stopped both shots she faced in eight minutes of play.
Special teams were key in Canada's victory. The Canadians were 1 for 4 on the power play and the U.S. was 2 for 10 with the man advantage.
"I felt like I had my legs and our line was playing really well," said Johnston. "But I think as a whole our team really took it to them and had a lot of energy. We killed off a lot of penalties and I think that gave us a lot of momentum and energy when we're 5-on-5 and on the power play."
Brianna Decker scored twice for the Americans, while Hilary Knight added a power-play goal. Alex Rigsby turned aside 18 shots in net.
Johnston opened scoring on the power play 6:37 into the first then added two goals in the third. Spooner also scored in the third as Canada reeled off three unanswered goals.
"(Johnston) is a kid that is extremely positive and she never stops working," said head coach Laura Schuler. "Tonight was her doing just that, not stopping and just going hard and getting up the ice and doing her magic. She had a tremendous game for us for sure."
The game was the first of two exhibitions between the powerhouses, designed to help them tune up ahead of the world championships in Plymouth, Mich., from March 31 to April 7. The two teams will meet again on Monday in Sarnia, Ont.
"Every time we play them it's such a hard-fought battle and it's always an exciting game. It's back to back and it's best-on-best competition. We were obviously really excited to see some success, especially here in this building where worlds is going to be taking place."
Sophie Shirley, Micah Hart, and sisters Amy and Sarah Potomak added some youth to Canada's senior team as Melody Davidson, Hockey Canada's general manager of national women's teams programs, considers her roster for the worlds and the 2018 Olympics in Pyeongchang, South Korea.
"It was great to be able to see them in this kind of environment," said Schuler. "All four of those players it was great to get them this kind of international experience."