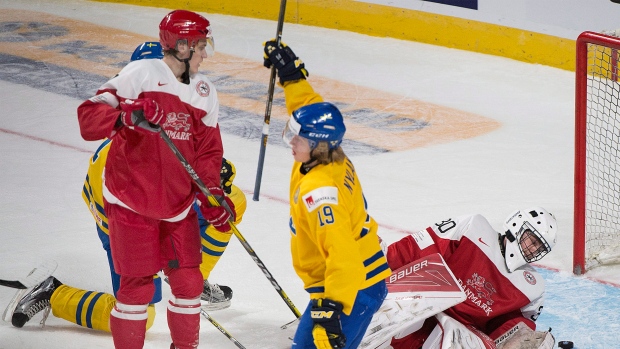 By Lucas Aykroyd – IIHF.com
Alexander Nylander led the way with two goals for Sweden. Carl Grundstrom, Rasmus Dahlin, and Joel Eriksson Ek chipped in a goal and an assist apiece, and Jonathan Dahlen added a single. Goalie Felix Sandstrom earned the win as shots favored Sweden 33-22.
Sweden is seeking its first medal since settling for silver on home ice in Malmo in 2014. The Juniorkronorna have won World Junior gold twice all-time (1981, 2012).
It was an auspicious debut for Tomas Monten as Sweden's head coach. The 39-year-old served as an assistant in 2014 and 2015.
Nikolaj Krag got the only Danish goal. The Danes, who finished eighth at the last two World Juniors, continued their history of futility against Sweden in World Junior play. They lost 10-1 on December 28, 2007; 5-1 on December 27, 2014; and 5-0 on December 30, 2015.
Life doesn't get any easier for Denmark, which faces defending champion Finland on Tuesday.
Halfway through the first period, Nylander opened the scoring, stickhandling into the slot and sliding a wrister past Danish goalie Lasse Petersen. The nifty 18-year-old, the son of retired NHL star Michael Nylander and brother of Toronto Maple Leafs rookie William Nylander, led Sweden last year with nine points.
It was 2-0 at 18:24, as Eriksson Ek, the Swedish captain, converted the rebound from Rasmus Dahlin's shot. Dahlin, a 16-year-old defenceman from Frolunda Gothenburg, is touted as a prospective #1 overall pick for the 2018 NHL Draft. His World Junior debut will add to the buzz. 
In the second period, Dahlen, another World Junior rookie, scored Sweden's third goal, going to the net to finish off a sweet Grundstrom pass on the rush. Dahlen is the son of longtime NHLer Ulf Dahlen, who led the 1987 World Juniors in scoring and won World Championship gold in 1998.
After Danish blueliner Oliver Larsen turned the puck over at the Swedish blue line, Grundstrom got a shorthanded breakaway. Petersen had stopped him on another breakaway early in the first, but this time, the Swedish assistant captain went high glove side for a four-goal lead at 6:26.
When Denmark pressed, Sandstrom was there to shut the door. He got his right toe on a dangerous Christian Matiasen-Wejse wraparound attempt.
Dahlin made it 5-0 at 13:12, stickhandling deftly inside the blue line before fluttering a high shot past Petersen. Nylander put Sweden up 6-0 at 18:22. Standing in front, he coolly tipped in David Bernhardt's feed from the point.
Nothing could be said in either dressing room during the second intermission that would change the final outcome, although Krag spoiled Sandstrom's shutout bid on a short-side wrister with just over two minutes left. Sweden gets a day off before facing Switzerland on Wednesday.
The Swedes dressed an experienced lineup, with seven returnees from the 2016 tournament. Denmark had six returnees. Danish winger Mathias From, a 2016 fifth-round pick of the Chicago Blackhawks, missed the opener. He is still recovering from an injury suffered at practice on December 15, but is expected to play later on.
Olaf Eller is coaching Denmark for the third straight year at the World Juniors. He is the father of former Montreal Canadiens forward Lars Eller, who now plays for the Washington Capitals.
Canada is hosting the World Juniors every second year through 2021. Montreal and Toronto also co-hosted in 2015, and Vancouver and Victoria will co-host in 2019. Hockey Canada has yet to allocate the sites for 2021.