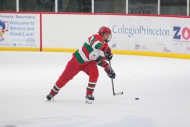 By Steve Ellis – Eurohockey.com
Brazil lost both games they took part in as Argentina and Mexico swept their games on Tuesday.
Argentina B 6, Brazil B 1
Argentina's B team has secured their first win of the 2017 Pan-American Ice Hockey Tournament with a victory over Brazil's B squad on Tuesday.
The game started well for Argentina, who controlled most of the early pressure. Eventually, the team's hard work paid off with the first goal of the game coming midway through the first period. 
But Brazil wasn't interested in trailing for long. Mauro Bontempo De Souza would score the first goal for the Brazilians, but Argentina would score less than a minute later to take the 2-1 lead. They'd extend their lead even further in the final minute of the third, using relentless pressure to take the two-goal advantage into the middle frame. Argentina would score three more in the third to finish off the 6-1 victory, starting their tournament on a high note.
Mexico B 2, Brazil A 1
Mexico's B squad has taken their first win of the tournament following a 2-1 win in a thriller against Brazil A.
The story of the game was Allen Edgard Ruane in net for Brazil. A veteran for the Brazilian national team, Ruane was a popular player after making stops on all of Mexico's top stars, showing great speed with his leg movement. Unfortunately for the team, a chance by Mexico would give the team the lead halfway through the game, putting the hosts back on top.
But minutes later, Gustavo Tecchio made it 1-1. Tecchio kept his country in the game by receiving a pass in close and jamming it past Mexico's netminder, knotting the contest up at one apiece.
Mexico, using their second best team at the tournament, came in as underdogs, but came out on top thanks to a third period goal. Ruane wasn't able to stop everything despite a magnificent performance, as eventually Mexico found a way past him late in the game to take the 2-1 lead and take the victory in the process.
How about this for one of the best hockey goal calls? Brazil's commentators cheer after Gustavo Tecchio scores. @BarDown @Deadspin pic.twitter.com/JJrUIe4C9N

— Steven Ellis (@StevenEllisNHL) June 7, 2017
Mexico A 17, Chile 0
In what could have ended up being the most one-sided game of the tournament, Mexico's A squad defeated Chile by a score of 17-0 to end off action on Tuesday.
Guillermo Martinez and Jorge Luethje led the way with three goals each, while both Carlos Eduardo Gomez Lopez and Santiago Sierra Sanchez Medal posted two goals and two assists each.
It was a game where people expected a much higher deficit, especially after Argentina beat Chile's nine players by a score of 26-0 on opening day. Mexico perhaps was not playing at full strength, but are looking forward to their final pre-tournament game against Argentina on Wednesday evening.