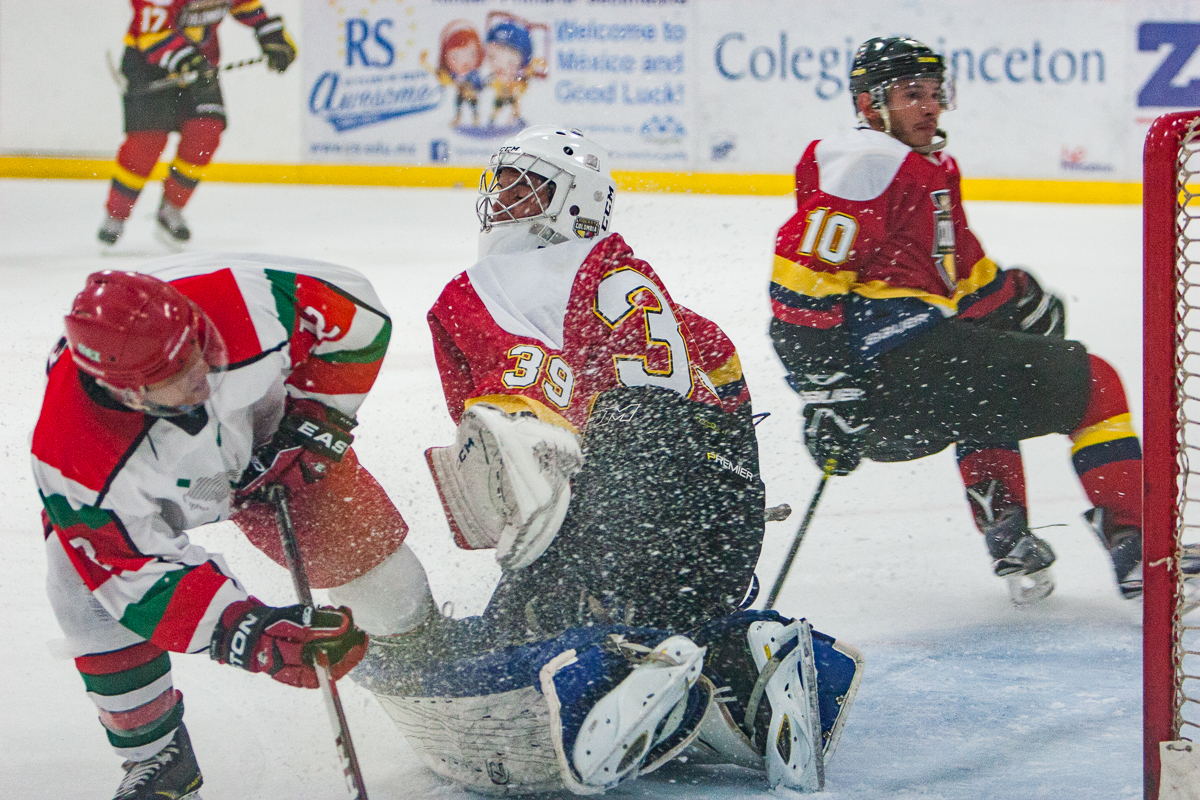 By Steve Ellis – Eurohockey.com
Colombia A 6, Mexico B 0
Two-time defending champions Colombia began the playoff round at the Pan-American Ice Hockey Games with a 6-0 win over Mexico's B team, keeping them in perfect standing after three contests.
The team has been dominant from the get go, beating Brazil's B team 11-0 before tackling Argentina's B team 8-1. The team will face Chile tomorrow afternoon in what should be a lopsided match before tackling Mexico in a big heavyweight battle on Friday night.
Chile 6, Brazil B 0
In a shocking result, Chile has won their first ever ice hockey game in just their third attempt after beating Brazil's B team 6-0.
Carlos Valdebenito was the star for Chile, scoring three goals and adding an assist for a team that had yet to score in any previous contest. Cristobal Vega, Miguel Villarroel and Stephane Binnebeek all contributed goals for the team that had only nine players on the roster.
The win is the first ever for Chile, who The Chilean Ice and Inline Hockey Federation was joined the IIHF in 2000, becoming the third South American country to do so. The country currently has three ice rinks, with Punta Arenas playing host to the annual Copa Invernada tournament each July. The team does participate in IIHF Inline Hockey World Championship and FIRS Inline Hockey World Championship tournaments, but had never played in an international hockey event until this week.
The win came during the first day of playoff action at the Pan-Am tournament, with Chile playing a second game against Argentina later in the day.
To watch the game in it's entirety, click here.
Brazil A 7, Colombia B 0
Brazil's top team now has two wins at the Pan-Am tournament after defeating Colombia 7-0 on Thursday.
It was a big win for Brazil, who now have four wins in the history of their country. It was the second straight win for Brazil over Colombia Rojo, who they beat 4-1 a day before. Brazil's only loss to date came on Tuesday after the team lost a 2-1 thriller to Mexico's B squad.
Brazil will now look towards playing their friends, Brazil B, before facing both Chile and Argentina B on Saturday and Sunday.
Chile 4, Argentina B 3
Thursday was an incredible day for Chile, who pulled off a thrilling 4-3 victory over Argentina later in the morning.
For Chile, winning two games against more established nations despite having a smaller roster proves that the team is starting to truly work well together. Argentina's loss was a disappointing one for them, with their previous game resulting in an 8-1 defeat to the hands of Colombia. They did score a victory earlier in the tournament, beating Brazil's B team 6-1, but couldn't overcome Chile on Thursday.
Mexico 9,  Argentina 0
In the last game of night Mexico moved into first place with an easy win over there rivals Argentina.