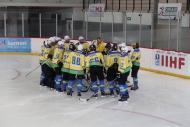 By Steve Ellis – Euro hockey.com
Shutouts by Colombia and Brazil start action on Friday at the Pan-Am Ice Hockey Games.
 Colombia B 5, Argentina B 0
A dominant effort on Friday has given Colombia's B team their first win of the 2017 Pan-American Ice Hockey Games thanks to a 5-0 victory over Argentina's B team.
It has been a rough tournament for Colombia Rojo, who have seen their A team counterparts win all their games so far. For Colombia, the team knew that Argentina's B team would be their best bet in the tournament after losing twice to Brazil's top squad.
So far, Pablo Llinas has been Colombia's top forward with two goals. Josafat Triana is the only other skater with two points, while William Martinez, Nestor Rojas and Kelsey Murkin have all contributed goals.
Brazil A 16, Brazil B 0
Brazil's fifth victory ever was their biggest in their short history in ice hockey, but it came at the expense of their weaker team, Brazil B.
it was the second straight shutout for Brazil, who defeated Colombia B 7-0 on Thursday. Andreas Diego Mindell has been very strong for Brazil, posting four goals and four assists for eight points. Bruno Gomes has also  been tremendous, putting up three goals and three assists, while Gustavo Tecchio has five points from the blue line. Brazil won't have any time to rest as they'll face Argentina B later in the day. Brazil has two games still left to play, with Chile and Argentina B on tap before the medal round on Sunday.
Colombia B 6, Chile 0
For the second time in a few hour span, Colombia's B team finished with a shutout.
This time, it came at the hands of Chile, who won their very first two games on Thursday. For Colombia, it gave them hope that they could grab another win on the weekend, but with just two wins overall.
Brazil B 3, Argentina B 2
Brazil's B team became the final team to win a game at the Pan-Am tournament, defeating Argentina's B team 3-2.
It was the second loss of the day for Argentina's B team, who have yet to win in three playoff games. Their only win came on day one when they beat Brazil's B team 6-1, struggling to score ever since.
Mexico B 2, Argentina 1
Mexico B grabbed their first victory of the second round to tie them with Mexico and Colombia for first in the second round.  
Mexico only has two goals in the final round after getting shutout in their first game. The win did put them ahead of Argentina, who sit fourth in the final round after losing both of their opening games. 
Mexico  2, Colombia 1
Mexico win a close encounter with the defending champions to remain in first place. Mexico has only given up one goal in the second round.