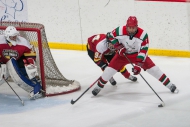 By Steve Ellis – Eurohockey. com
On the night of game six of the Stanley Cup finals, Mexico managed to finally secure their very first gold medal after beating Colombia 1-0 on home ice at the fourth Pan-American Ice Hockey Games.
Mexico was hungry to score the first goal of the contest after a dominant tournament from the start. In the past three tournaments, Mexico failed to take home the gold medal, including the past two years when Colombia took the victory.
In the dying minutes of the first, Mexico struck first. After countless opportunities in the opening period, Adrian Padilla made it 1-0 after staying close around the net and knocking in a rebound past Zack Frost, giving the hosts the advantage heading into the second frame. It turned out to be the only goal the team would need, defeating Colombia for their first ever gold medal, not only at the Pan-Am, but in men's ice hockey competition.
The win capped off a perfect tournament for Mexico, who won all six games en route to a gold medal. The win comes after two straight losses to Colombia in the finals and a big defeat at the hands of Canada back in 2014, which resulted in silver medals all three years.
Earlier in the day, Argentina, who won just one previous game at the tournament this year, pulled off a 6-1 win over Mexico's U18 team to secure their first medal. It was just their third win ever in hockey competition after beating Brazil 5-3 in 2014 and Chile 26-0 to start the tournament this year.