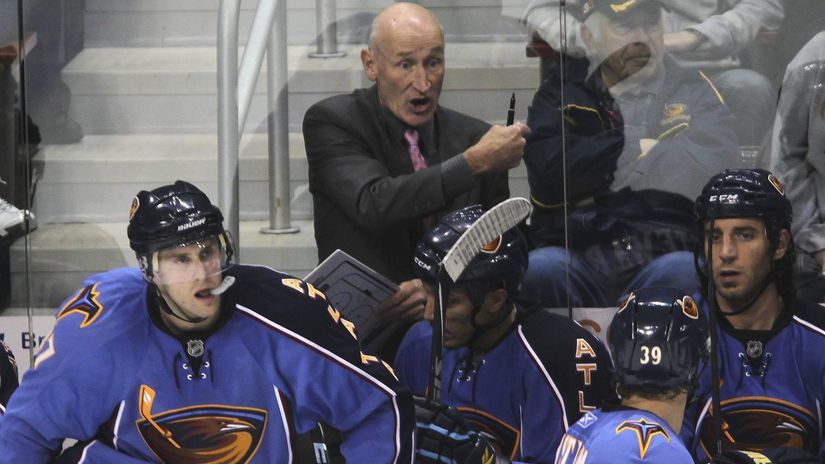 By Martin Merk – IIHF.com
New General Manager Miroslav Satan announced at a ceremony on Wednesday that the two parties agreed on a two-year deal.
The contract will include the 2018 Olympic Winter Games as the next big event for the team as well as the 2018 IIHF Ice Hockey World Championship in Copenhagen and Herning, Denmark, and the 2019 IIHF Ice Hockey World Championship on home ice in Bratislava and Kosice.
"I'm glad that such an expert who has worked in the NHL as a player and for many years as a coach in various roles will join us and help us lead our hockey into a new epoch with new methods," Satan said according to the TASR news agency.
Ramsay will be the head coach of the men's national team but is also expected to mentor younger coaches to create a unified game system within the program.
Ramsay will be the third foreign coach in history of the Slovak men's national team after fellow countryman Glen Hanlon (2010-2011) and Czech veteran coach Vladimir Vujtek (2011-2015). He replaces Zdeno Ciger, who was coaching the team during the last two seasons.
But Slovak fans shouldn't expect a typical Canadian coach as former national team player Boris Valabik, who had one common season with Ramsay at the Atlanta Thrashers in 2010/2011 but was sent to the farm team, told Dennik N.
"He preferred more skilled players, which was not ideal for me. He's an expert. He didn't like the defensive game. Shooting the puck along the boards is not his style. His favourite expression was 'safe is dead'," Valabik said and thinks Ramsay will be a good match for European hockey despite having neither played nor coached on the continent. "He's not a typical Canadian coach. He will match to the skilled Slovak style. He will be able to excel with skilled Slovak forwards."
As a player Ramsay spent his whole NHL career with the Buffalo Sabres, who named him a Hall of Fame member of the club in 1986, one year after retiring as a player. He played 1070 regular-season games (252 goals, 420 assists) and 89 playoff games (17 goals, 31 assists) for the Sabres and once appeared in 776 consecutive games without missing one, making his ironman streak the fifth-longest in NHL history. He's also in the record book as last NHL player to play a full season without penalty minutes, during his 78 games in 1973/1974. In 1985 he won the Frank J. Selke Trophy for the best defensive forward of the league.
Ramsay turned into coaching immediately after his retirement as a player and continued with the Sabres for eight years as an assistant coach, as an interim head coach replacing Scotty Bowman, as director of player personnel and assistant GM.
He later had stints as a head coach with the Philadelphia Flyers and the Atlanta Thrashers and has a 66-71-19 all-time coaching record in the NHL but spent most years as an assistant coach with stints at the Florida Panthers, Ottawa Senators, Philadelphia Flyers, Tampa Bay Lightning, Boston Bruins and most recently in 2014/2015 with the Edmonton Oilers. Last season he served as a consultant for the Montreal Canadiens.
His biggest success as an assistant coach in the NHL was winning the Stanley Cup with John Tortorella and the Tampa Bay Lightning in 2004.
The 66-year-old is expected to arrive in Slovakia next week. On 23 & 24 August Slovakia will play back-to-back cross-border exhibition games against neighbour Czech Republic in Trinec and Zilina. During the November international break Slovakia will play at the Deutschland Cup in Augsburg, Germany.
At the 2018 Olympic Winter Games in Korea, Slovakia will play in Group B with Russia, Team USA and Slovenia.
At the 2018 IIHF Ice Hockey World Championship in Denmark the Slovaks are seeded in Group A in Copenhagen where they will have Russia, Sweden, the Czech Republic, Switzerland, Belarus, France and Austria as opponents.