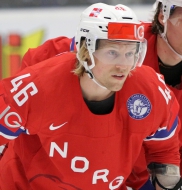 By Adrian J – Eurohockey.com
In this article I want to have a look at some of the players from Norway, Finland, Slovakia, Slovenia, Czech Republic and Germany who will be playing in the Olympics who have worked in one of Europe's best hockey leagues, the Swedish Hockey League (SHL)
Norway
It is Norway who will take the most players to the Olympics who are currently active in Sweden, eight players in all. The two players in Sweden's second division, Hockey Allsvenkan, are MODO Hockey's forward, Martin Røymark and Timrå IF goalkeeper, Henrik Haukeland. From the SHL, defenceman Erlend Lesund has been at newly promoted Mora IF for three years but, like the relegation contending club, has not found the form that made his Norway's Rookie of the Year in  2013/4. Another defender, Mattias Nørstebø has played nearly his whole career in the SHL, first at Brynäs IF and now at Frölunda Indians. He is currently side-lined due to knee surgery in December but may yet be able to play in South Korea.  A more certain bet is his Frölunda teammate, Mats Rosseli Olsen. The 26-year-old forward is now in his seventh season in the Gothenburg club racking up about 300 matches by the end of this season. The management speak very highly of him, saying that he and Swedish captain Joel Lundqvist are the core of the club.
When Rosselli Olsen and Lundqvist face each other on 15 February Sweden will also need to keep an eye on four Norweigans who have played in either the KHL or AHL. Two of that elite group have also played in the NHL, former Edmonton Oiler Patrick Thoresen and former Colorado Avalanche back Jonas Holøs. But here I will focus on the other two of that quartet who currently play in the SHL. One of them is goalkeeper Lars Haugen. The 30-year-old has played several seasons in the KHL at Dinamo Minsk but is now in his third year at Färjestad BK. The team seem likely to reach the automatic playoff, with thanks to Haugen who has a 0.914 Save Percentage so far this season.
Meanwhile striker Mathis Olimb is finally getting into his stride after a slow first season at Linköping HC last year. The 31-year-old played briefly in the KHL but more significantly played the 2010-11 season for the AHL affiliate of the Chicago Blackhawks, the Rockford Icehogs. Olimb is currently 15th equal on Total Points in the whole SHL and shares that position with none other than his own teammate, NHL star and Canadian Olympian, Derek Roy. But the two are unlikely to meet on the ice unless Norway can get out the group stage. Last, but not least, is Mathis' teammate and younger brother by two years, Ken Andre Olimb. The two haven't played in the same club side since 2007, so you can be sure than Ken Andre has been reminding his older brother than he is only 6 points behind him with plenty of time left in the season to overtake his more well-known sibling.
Finland
The group stage of the Olympics could turn into a Viking blood-fest as Nordic neighbours Finland, Sweden and Norway are all together with Germany in Group C. But surprisingly, Finland has only one player on the squad who is currently playing club hockey in Sweden. Instead they will be relying on the strength and depth of players they have in the KHL and their own top division, Liiga. The exception will be in the shape of the lightest and shortest player in the SHL, Sakari Manninen of Örebro HK. The slim Finn however, is not short of talent leading his team in Goals, Assists and Total Points. In his first season in Sweden he continues to collect points every other game, just as he did in a four year long career in Liiga. The 25-year-old has undoubtedly been chosen because of his success in the Euro Hockey Tour against three teams who will also be playing in the Olympics – Russia, Sweden and the Czech Republic. The diminutive hot shot came in second place in Goals scored on the Tour. He shared that honour with several others including Sweden's Joakim Lindström, the current top ranked Total Points scorer in the SHL.
Slovenia
One player I am really looking forward to seeing more of is Jan Mursak. The Slovenian captain has only played five matches in Sweden for Frölunda Indians but has already got four points, including three goals. The 30-year-old has a very impressive CV including seven years in North America and four years in the KHL. He is the only player on the Slovenian team to have played in the NHL with 46 games for the Detroit Red Wings. There he played with, amongst others, OA Russia's superstar and Olympic bronze medallist, Pavel Datsyuk.
Former SHL players from Germany, Slovakia and Czech Republic
OA Russia, Switzerland and Germany have almost exclusively chosen players who are playing in their own country's leagues. For the first two teams this mean no ex-SHL players have been selected for the Games. However, with Germany this still means some former SHL talent will be on display. For example, centre Felix Schützplayed for Rögle BK last season. The 30-year-old has played an incredible 129 international matches for Germany, two years in the AHL and three seasons in the KHL. He has circa 0.50 Points Per Game in the SHL, AHL and KHL which will be much-needed if Germany are to get out the group stages in South Korea.
The next former SHL player I want to look is Schütz's former teammate for two years at Rögle BK, Slovakian defenceman, Dominik Granak. He played in Sweden for three years in total. The 34-year-old is an offensive minded player and has regularly posted seasons in both the KHL and SHL of c. 0.50 Points Per Game over the last ten years. But both Granak's Slovakia and Murzak's Slovenia will need all their players to be playing at the absolute top of their game to qualify from Group B which also contains the formidable strengths of the USA and OA Russia. 
There are a huge number of players who have experience from the SHL going to the Olympics. For example, just the Finnish and Slovakian teams alone have over 1400 SHL games in them. So, for my final example of former SHL players who will be gracing the Asian ice is Czech high scorer, Milan Gulas.
After four years and a jaw-dropping 138 Total Points, including 58 Goals, at Färjestad BK, the 32-year-old forward returned to the Czech Republic for this Olympic year. His team my be the surprise package Group A where they will face Canada, Switzerland and Korea. The team may even upset one of the big names in this tournament and should not be underestimated. Over half the team plays in the KHL and have a total of 1330 NHL games between them, even if 881 of them are owned by one player, Martin Erat, who played 11 seasons with Nashville Predators.
Conclusion
The SHL is awash with talented players from over the whole hockey world and many of its most skilful proponents best will be on display for 2 weeks in South Korea. OA Russia and Canada would have to be favourites looking at the strength and depth of the rosters, but what would sport be without the unpredictable heroics, the fallen stars and drama that is the Olympic Games. The first puck drop is only days away!