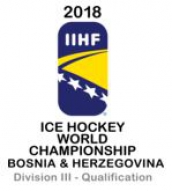 By Steven Ellis – Eurohockey.com
Turkmenistan was not expected to have much trouble with Kuwait, but the dominant display the Central Asian team put on surpassed all expectation. Eight goals in the first period, seven in the second and nine in the third made 24 in total for Turkmenistan, with Kuwait scoring twice in the third period after the game was well in hand. Captain Ahmet Gurbanov racked up four goals and four assists in the game, with Aleksandr Vahovskiy, Arslan Geldimyradov, Dovlut Soyunov, Ishan Veleyev and Nikita Avdeyev also recording hat-tricks.
"It was very difficult, but you have to remember that some of our players have only been playing hockey for two years," Kuwaiti head coach Pavel Arnost shrugged after the game. "We played hard against Bosnia yesterday but Turkmenistan is on another level entirely."
In the nightcap, Bosnia and Herzegovina needed a win against the UAE to keep pace with Turkmenistan and did so with a 5-1 win, but it wasn't easy.
Amar Hadzihasanovic opened the scoring at 4:48 but, despite dominating the first period, that was the only goal for the Bosnians. Then, early in the second period, captain Juma Al Dhaheri tied the game with a brilliant individual effort in which he undressed a Bosnian defenceman and the goalie. Less than five minutes later, though, Bosnia's captain answered when Dino Cordalija intercepted a pass in the UAE zone and fired the eventual game-winning goal on a blistering slapper while shorthanded.
"We were superior physically and superior mentally, but sometimes it takes a catalyst to get the boys going and once they get their confidence, they get on a roll," said Bosnian coach Brian Jokat.
Less than two minutes after that, Mirza Omer put the hosts up by two with a nice goal of his own, going inside-out and firing top shelf. In the third, Cordalija scored twice more to complete his hat-trick.
"I have to take my hat off to Dino. He was the leader out there today, took the bull by the horns and made the difference," Jokat continued. "He's a true leader and he showed out there tonight why he wears the 'C'."
On the tournament's final day on Wednesday, two ties will be broken. First off, either Kuwait or the United Arab Emirates will get their first win. History favours the UAE, who have won all previous meetings against their Middle-Eastern rivals. Then the final game will decide which team advances to Division III of the World Championships.
"It's the last game and we've got a day off to prepare, so we'll talk a little bit about what happened today and try as best we can to finish on a high note," said Arnost.
"The stage is set now. We're three periods away from playing on the world stage again," said Jokat. "It's really their choice now how much they want it. We'll just put this one behind us, look forward to the next one and lay it all out on the line."