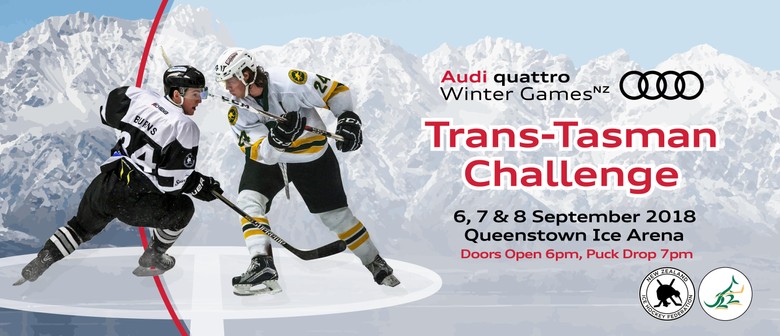 By Sean Nugent – Otago Daily Times
The New Zealand Ice Blacks have drawn first blood in the three-game test series against the Australian Mighty Roos as part of the Winter Games, with a comfortable 4-2 victory thanks to some clinical finishing and outstanding goaltending by Daniel Lee.
Queenstown Lakes Mayor Jim Boult was on hand for the ceremonial puck drop before the start of the game.
The Ice Blacks were aggressive from the beginning, but it was the Roos who opened the scoring after five minutes.
But that lead did not last long as the home side hit back as Dale Harrop turned the puck in after some quick link-up play in the final third.
The home side was on the front foot and took the lead moments later, going into the first break with all the momentum.
The physicality ramped up in the second period and the Roos went searching for an equaliser, but were continually denied by some sharp work from Ice Blacks goaltender Daniel Lee.
After looking strong in the first period, the men in black hardly threatened the Roos' goal in the second, until Alexandr Polozov found some space down the left flank and picked out Ryan Strayer waiting in the centre to easily turn it in and double their lead.
The Roos did not roll over, and got one back through Patrick Nadin right before the end of the period, leaving it all to play for in the final 20 minutes.
It was end-to-end play at the start of the third period, and the Ice Blacks increased their advantage through Benjamin Gavoille to give themselves a two-goal cushion with just seven minutes to play.
The home side continued to push for a fifth goal up until the final buzzer without success, but it did not matter as it took a 1-nil lead in the series.
The New Zealanders will be wary not to become complacent as a similar situation occurred in the first game of last year's series, only for the Roos to hit back in games two and three to spoil the party.
Game two will be played tonight and game three tomorrow evening.