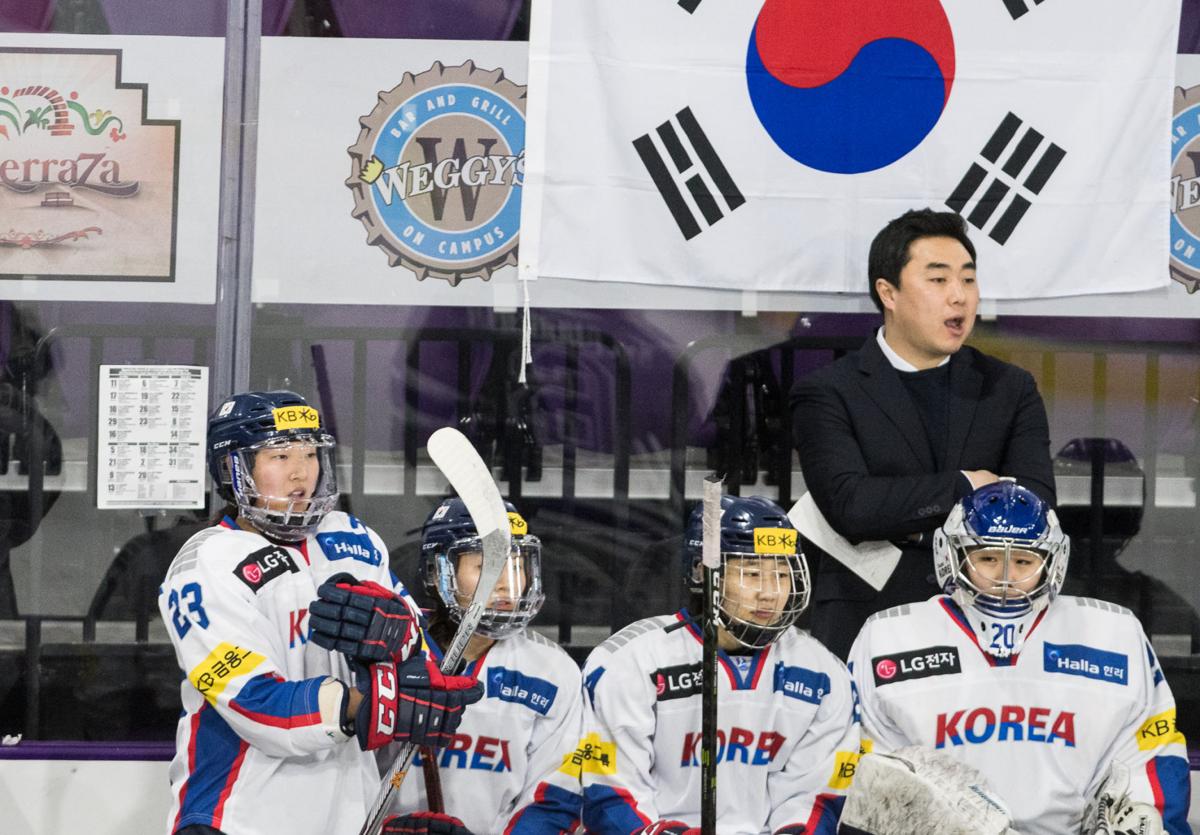 By Shane Frederick – Mankato Free Press
Marissa Brandt was back on the ice in southern Minnesota on Tuesday night.
The name on the back of her jersey, though, might have been unfamiliar to anyone who watched her play hockey for four years at Gustavus Adolphus College.
Yoon Jung Park was Brandt's given name when she was born in 1992 in Seoul, South Korea. When she was 4 months old, Greg and Robin Brandt adopted her, bringing her to Minnesota.
She's using that original name again, though, as an Olympian representing her birth country during the Winter Games, which will take place next month in Pyeongchang, South Korea.
"I (thought) I would go back to Korea with my family," Brandt said on Tuesday morning following a practice in Mankato's Verizon Center.. "But I never thought it would be in this circumstance, that I'm going there to play hockey."
Brandt and the South Korean women's national team played Minnesota State on Tuesday night as part of a series of exhibition games in preparation for the Olympics.
"It's just been crazy," Brandt said. "I can't even believe that this is happening. I'm going to the Olympics and with this team and representing Korea. It's really, really crazy. It's surreal."
Brandt grew up in Vadnais Heights and went to high school at Hill-Murray before attending Gustavus.
She played 111 games for the Gusties between 2011 and 2015, helping the team to two NCAA Division III Frozen Fours.
In the spring of her senior year she thought her competitive hockey days were behind her and was studying for final exams when she got a call "out of the blue."
"They asked if I wanted to go to Korea for a tryout," Brandt said. "And immediately I found myself saying yes but without even thinking."
She had never been back to South Korea since her adoption, didn't know anybody there and didn't speak the language. After agreeing to the tryout, she returned there alone in 2015, taking a 15-hour flight.
"I didn't even know who was picking me up from the airport," she said. "I didn't know what I was really getting myself into. … It was kind of terrifying."
By December of 2016. Brandt gained her South Korean citizenship and is now considered a dual-citizen of that country and the United States. She's been back and forth between the two countries several times over the last couple of years.
Brandt is the only adoptee on the team, however, there are five other "imports," natives of the United States or Canada born to Korean parents. She admits she still doesn't know the language very well, however, at 25, she is one of the older players on the roster. She's also an assistant captain.
"This team, it's unlike any other team I've been part of, especially with the age difference," she said. "I have 16-year olds to 32-year-olds. … But, really, everybody gets along great and the dynamic on the team is awesome."
Besides playing Minnesota State, the South Koreans will play Minnesota Duluth, Wisconsin-River Falls and Shattuck-St. Mary's before going to Pyeongchang.
"It's been really busy," Brandt said. "We've been to a couple tournaments, different training camps. We were in France, Hungary, now we're in Minnesota for a camp.
"It's been good for us to play other women's teams because there aren't many women's teams in Korea to play. It's good for us to get that kind of experience. … We're getting our fair share of games, that's for sure."
Last April, she helped the team win the International Ice Hockey Federation Division II World Championship.
"I'm hoping this training camp and the games leading up to the Olympics will really help us to prepare for the Olympics," Brandt said. "We want to learn everything from each game and get better. I'm sure it's going to be here before we know it."
Brandt won't be going to South Korea alone this time, though.
On Sunday, her sister Hannah was named to the United States Olympic team. Hannah Brandt, 11 months her sister's junior, was a three-time All-American at the University of Minnesota, where she became that program's all-time leading scorer between 2012 and 2016.
The Brandts' parents became pregnant with Hannah while preparing for Marissa's arrival from Seoul.
The sisters have always been close, playing youth and high school hockey together.
"She tried out (for the 2014 Olympics) but was one of the last to get cut," Marissa Brandt said. "It's kind of crazy. We talked like, maybe this was supposed to happen, her getting cut back then and us going to the Olympics for the first time together. We're really excited."