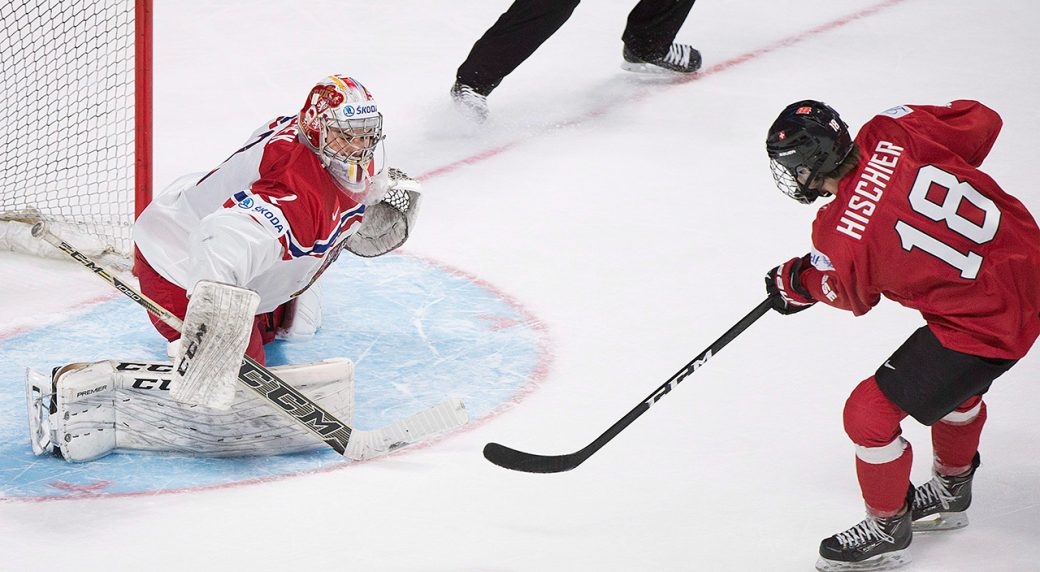 By Lucas Aykroyd – IIHF.com
Budding superstar Nico Hischier scored the overtime winner at 0:23 and added two assists as the Swiss topped the Czechs 4-3 in their opener on Tuesday.
Swiss assistant captain Damien Riat fed Hischier a breakaway pass and the 17-year-old sniper from the QMJHL's Halifax Mooseheads beat Czech goalie Jakub Skarek through the five-hole.
"It's a great feeling to score in overtime," said Hischier.
Riat also had a goal and two assists. Captain Calvin Thurkauf added a goal and a helper, and Loic In Albon also scored for Switzerland. Goalie Joren van Pottelberghe shone with 36 saves.
"It's always nice to win, especially the first game of the tournament," said van Pottelberghe, who plays for Davos in the Swiss NLA. "It gives you a good feeling to progress in the rest of the games."
The last time Switzerland won a preliminary-round game was two years ago on this date in Toronto, and it was a 5-2 win over the Czechs. Switzerland, under new head coach Christian Wohlwend, is looking to improve on back-to-back ninth-place finishes at the last two World Juniors.
"This year, we had a super pre-season, and we had two great games against Canada and the USA," said Wohlwend. "This is why I expect way more from our team 5-on-5. This was the first game and our players were a bit nervous. But now, in the second game we have to step up."
The Swiss face Sweden next on Wednesday, and the Czechs will battle Denmark on Thursday.
Filip Chlapik scored twice for the Czechs and Radek Koblizek added a single. Michael Spacek and Jakub Zboril each contributed two assists.
"I think we did a pretty good job, as our game yesterday started at 7 pm," said Chlapik. "We have to learn how to play in the first periods. We have to play the same way all game. In the first two periods, we didn't do what we wanted. We played good, but we didn't go to the net. That's what we wanted to do, go for the rebounds and score ugly goals."
The Swiss showed resilience in pre-tournament play when they rallied from a 3-0 deficit against Canada before losing 4-3 in overtime. That quality was evident again in their Bell Centre debut, as they were outplayed early on, but found a way to succeed.
The Czechs, who last won World Junior gold in 2001, are usually among the tournament's most mercurial squads. And after edging defending champion Finland 2-1 in their opener, they couldn't down a lesser opponent despite outshooting Switzerland 39-22 — even though they came back after trailing 3-1.
In a fast-paced, scoreless first period, it was a rough welcome back to the World Juniors for Riat. He collided heavily with Zboril, a big Czech defenceman, in open ice, and later took a puck in the face. Shots, meanwhile, favored the Czechs 9-3 through 20 minutes.
"Luckily we had Joren [van Pottelberghe], so it stayed 0-0 after the first period and then in the dressing room we said we have to change it up and we did," said Hischier. "We showed what we can do."
The Czechs couldn't neutralize Hischier. In the 2017 NHL Draft, he could supplant Nino Nieddereiter (chosen fifth overall by the New York Islanders in 2010) as the highest-drafted Swiss ever. In this game, he exceeded his entire output at last year's tournament in Helsinki (two assists in six games).
Halfway through the second period, Hischier deftly centred the puck from the side boards to In Albon at the hash marks. In Albon, a 19-year-old World Junior rookie who plays for Lausanne, squeezed a quick wrister through Skarek.
The Czechs ran into penalty trouble, taking three straight minors, and the Swiss made them pay with the man advantage. With 3:57 left in the middle frame, Riat took a pass from Hischier and unleashed a shot from the slot, forcing Skarek to make a left pad save. Thurkauf banged in the rebound for a 2-0 lead.
At 5:02 of the third, the Czechs got some life when Koblizek scored to make it 2-1, taking a pass from Zboril on the rush and zipping one over van Potteberghe's glove. 
But Zboril was sent off for cross-checking Yannick Zehnder from behind into the boards, and the Swiss quickly capitalized. Riat stretched the lead to 3-1 at 8:34 when he zipped a high shot from the middle past Skarek, with Thurkauf screening in front.
"Our special teams were good, especially the power play," said Wohlwend.
The Czechs made it 3-2 just over two minutes later with a power play goal of their own. From the top of the right faceoff circle, Chlapik sent a zinger past van Pottelberghe.
Hischier was nearly the goat, as he was in the penalty box for high-sticking when the Czechs tied it up with 17 seconds left and their goalie pulled. Spacek, who scored the winner versus Finland, sent it to Chlapik and he cashed in from the faceoff circle.
"I think we played a really good third period," said Chlapik. But it wasn't enough.
This was the third Swiss victory over the Czech Republic in World Junior history. The first one came in the 1998 bronze medal game (4-3 in a shootout) in Helsinki.