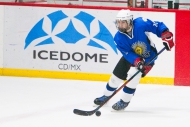 By Steve Ellis – Eurohockey.com
Argentina scored just their second ever victory and Colombia started their tournament with a big victory at the 2017 Pan-American Ice Hockey Games.
Argentina 26, Chile 0
In Chile's very first ice hockey game, Argentina's top team managed to record the biggest victory in the four year history of the Pan-American Ice Hockey Games with a 26-0 win to begin the 2017 tournament.
The win was a historic one, and not just for the score. The match was the first ever that Chile played in an international tournament, with the team expected to show growing pains in their inaugural event. The Chilean Ice and Inline Hockey Federation was joined the IIHF in 2000, becoming the third South American country to do so. The country currently has three ice rinks, with Punta Arenas playing host to the annual Copa Invernada tournament each July.
With the win, Argentina put themselves in the history book with the biggest victory ever at the tournament. Previously, Mexico beat Argentina's B team 19-0 in 2015, which was the biggest victory ever until today. Argentina has only won one previous game against other nations, having beaten Brazil in the inaugural Pan-American tournament in 2014.
Colombia 11, Brazil B 0
In a meeting of last year's champions and Brazil's second best team, Colombia managed to take an easy 11-0 victory to start off their tournament.
Nathan Jones was the star of the game, posting four of the team's 11 goals. Juan Diego Fierro and Kevin Medina and scored twice to add to the score sheet while Alejandro Villalon, Felipe Sanchez and Nicolas Fierro scored a goal each. Zack Frost posted a shutout in the game, with Colombia taking a victory in a game they expected to win from the start.
Mexico B 7, Colombia B 0
In the first game of Group C action, Mexico finished off a perfect day for winning teams at the Pan-Am tournament with the third consecutive shutout.
Mexico was dominant from the start, taking a 3-0 lead early on. The team kept the battle rolling with three more goals in the second, allowing just one shot in the first 17 minutes of the middle frame. The Mexicans would add an extra marker in the third, scoring seven times to take the 7-0 win.