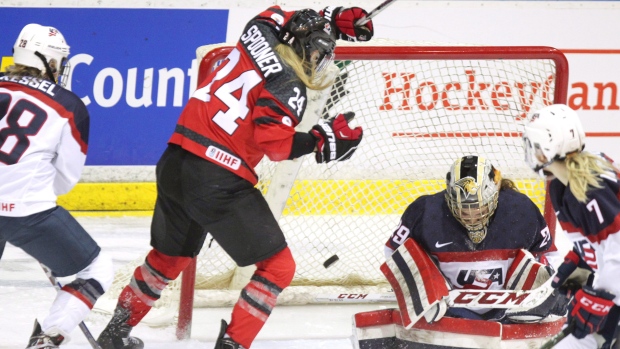 Captain Marie-Philip Poulin and the rest of Canada's women's national hockey team sent a message to the United States.
Poulin scored just 42 seconds into overtime as Canada rallied to a 3-2 win over the United States on Monday in the second half of a two-game exhibition series between the women's hockey powers. The Canadians won both games, important victories over their arch-rivals ahead of the world championships in Plymouth, Mich., from March 31 to April 7.
"It's always a big rivalry every time we play them, we know it can go either way and it's always very emotional, passionate out there," said Poulin. "It was really great to get wins back to back."
Poulin scored the winner on a partial breakaway, carrying the puck up the right side of the ice before cutting to the slot and firing the puck on the net.
Head coach Laura Schuler was pleased with the win and what she saw from her team, but thinks they can be even better. In particular, Schuler wants to see her players be more disciplined.
"It's great to see some success here," said Schuler. "But at the same time, I'll be honest, I wasn't happy with our second period (when Canada took three penalties). I still think this team can be a lot better."
Jennifer Wakefield blasted a one-timer from the hashmarks in to tie the game with 24 seconds left in the third, forcing the extra period for Canada. Rebecca Johnston had scored early in the first.
"It was a drawn-up play and they executed what we had drawn up perfectly," said Schuler. "Jenny has one of the hardest shots on our team. She just put everything she had into it and fired it past the goalie.
"Kudos to our kids for being able to execute that. That's something they had never even practised before."
Shannon Szabados made 23 saves for the win.
Jocelyne Lamoureux-Davidson and Hilary Knight gave the United States a 2-1 lead by the second intermission. Nicole Hensley stopped 17 shots.