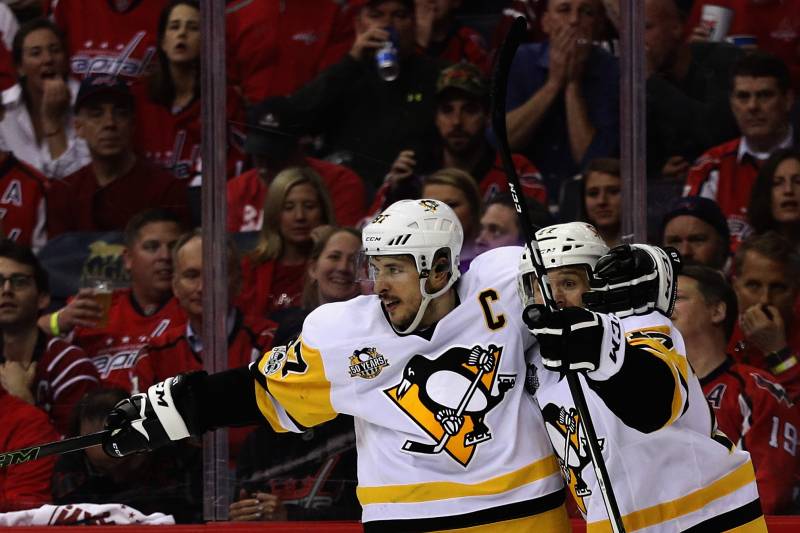 By Alec Nathan – Bleacher Report
The NHL's conference finals are set following a pair of Game 7s on Wednesday night.
In the evening's first tilt, the Pittsburgh Penguins dispatched the Washington Capitals 2-0 in hostile territory to set up an Eastern Conference showdown against the Ottawa Senators—who sent the New York Rangers packing thanks to a 4-2 win in Game 6 on Tuesday night.
The nightcap, meanwhile, featured the Anaheim Ducks taking home a 2-1 win over the Edmonton Oilers to snag a spot in the Western Conference Final against the Nashville Predators.
With those matchups locked in, here's an overview of what to expect as the chase for the Stanley Cup heats up.
Eastern Conference: Ottawa Senators vs. Pittsburgh Penguins
If the regular season were any indication, the Penguins and Senators may well engage in an explosive set of contests.
In the teams' first meeting, on Dec. 5, the Penguins captured a whopping 8-5 victory at PPG Paints Arena thanks to a hat trick from Bryan Rust. However, the Senators counterpunched a month later by thrashing the Penguins 4-1 back at Canadian Tire Centre.
The rubber match on March 23 wasn't quite as high-scoring, but it was a nail-biter that saw the Senators escape with a narrow 2-1 shootout victory.
Now primed for a postseason collision, the Penguins appear to have a slight edge on the Senators as Game 1 approaches.
Although Ottawa will have the benefit of extra rest after they escaped Round 2 in six games, Pittsburgh is coming off a statement win over the top-seeded Washington Capitals.
Combine that triumph with home-ice advantage and the fact the Penguins have been able to stave off injury-induced adversity, with Matt Murray, Trevor Daley, Sidney Crosby and Kris Letang all banged up to varying degrees, and the defending champions should be a force to be reckoned with.
That's not to say the Senators won't put up a fight.
Not only is Erik Karlsson—who tallied seven points against the Penguins in the regular season—dialed in and playing as well as any player left in the playoffs, but goaltender Craig Anderson has proved brilliant at times—including Game 6 against New York, when he racked up 37 saves to send the Rangers packing.
"He was extremely calm," head coach Guy Boucher said of Anderson in Game 6, per the Ottawa Citizen's Don Brennan. "If you look at his saves, a lot of them, they're right in his stomach. And it's not necessarily shots that were thrown at his stomach. It's because he was there. He made it look sometimes easier than it was."
Anderson should propel the Senators to a couple of wins, but the Penguins simply have too much firepower to be contained for extended stretches.
Prediction: Penguins in 6
Western Conference: Nashville Predators vs. Anaheim Ducks
The lone division champion remaining in the playoffs, the Ducks will be tasked with holding their ground against a Predators team that has been scalding since the postseason started.
As if a first-round sweep of the Chicago Blackhawks weren't impressive enough, the Predators dispatched the St. Louis Blues in six games and have enjoyed an extended rest following Sunday's 3-1 series-clinching victory.
"I don't think I can stress it enough," defenseman Mattias Ekholm said of the rest and short travel times to this point in the playoffs, per Brooks Bratten of the team's official website. "I really felt that in the Game 7 [against the San Jose Sharks] last year, the gas kind of ran out. Right now, two short series with travel, four games, six games, it's almost too good to be true. We've really got to emphasize that we're in a good spot and take advantage of the rest that we're getting."
However, the Predators are in for a shakeup now that they'll have to travel to California to face a Ducks team that will enjoy home-ice advantage after shaking off some historical postseason woes by virtue of Wednesday's win over Edmonton, according to NHL Public Relations on Twitter:
The @AnaheimDucks, who hosted a #Game7 for 5th straight year, snapped a 4-game home losing streak in such contests and 5-game skid overall. pic.twitter.com/b08H9v646p

— NHL Public Relations (@PR_NHL) May 11, 2017
Thanks to their resilience, the Ducks will enter the Western Conference Final riding a wave of positive momentum as they seek a return to the championship series for the first time since 2007. 
That said, they'll have to solve a stingy Predators defense that has allowed a grand total of 14 goals through 10 playoff games.
To put that number in perspective, the other two teams that allowed 14 goals in the playoffs—the Montreal Canadiens and Calgary Flames—participated in 10 playoff games combined before bowing out of this year's proceedings. 
The Predators are in for a lengthier battle as the scene gets set to shift to the Golden State, but with P.K. Subban and Pekka Rinne leading the charge, they should be able to put the clamps on the Ducks just enough to slip by. 
Prediction: Predators in 7