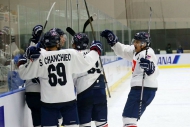 By Steven Ellis – Eurohockey.com
A 14-0 victory over Singapore has given Thailand their first ever ice hockey gold, taking place at the 2017 Asian Winter Games in Sapporo, Japan.
Thailand was strong from the offset of the tournament, with the team winning their first game against Mongolia 5-4. The team then stopped UAE by a score of 6-4 before easily defeating Hong Kong 8-2. Their game against Chinese Taipei later in the week was expected to decide who would win the tournament, and with a 3-2 overtime victory, Thailand was in the hot seat heading into their game against Singapore.
Coming into the game, Singapore had allowed 42 goals in four games, so Thailand's chances were extremely high. Thailand's top player, Kim Aarola, had four goals and two assists for six points in the game, good to give him 15 in five games. Likit Neimwan-Andersson was strong for his nation, putting up two goals and an assist to top off the impressive tournament performance.
Thailand's last medal came at the 2012 Challenge Cup of Asia, a silver medal. The team now has five total medals in international competition, with two silver, two bronze and now a gold to their credit.
Chinese Taipei finished the tournament with a silver medal thanks to an 6-2 victory over Mongolia to start the day. Wrapping up in third place were the United Arab Emirates following a 5-3 win over Hong Kong.